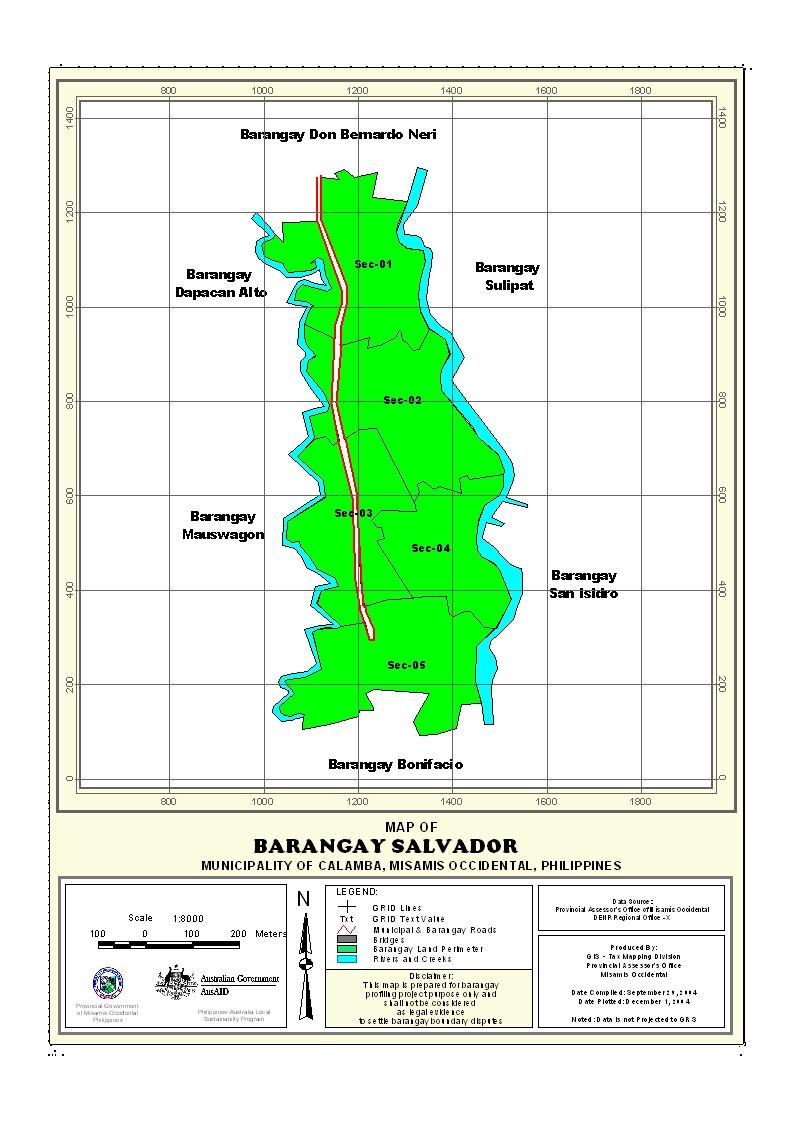 Brief history of the Barangay
Year

Key Events

1935
During this time, the place was known as Sitio Pitsoan of Calamba
There were 20 families settled in this sitio who are all Subanen
Catholic Chapel was established
Most of the activities done were the so-called "Rayna-rayna and Bayle"

1941-1944
Battle against Japanese were most of the women were abused and raped by the Japanese
1946
A peace time whom people now were normally settled
Created as Barangay Salvador in time of Tenyente del Baryo Ruperto Nagasan
There were 50 families settled in this barangay
1966
The first primary school was established
There was an increase of settlement in this Barangay reached to 70-80 families.
1970-1980
Different projects from different agencies were existed such as Food Processing from DA, Mother's Class from Department of Health and the creation of the so-called "Sugang Dagitabnon"
1981
Organized Barangay Health Workers (BHW) in the Barangay in the promotion of family planning
1982-1989
A time were NPA was existed where many of the resident have evacuated form this Barangay.
There was an increase of death rate due to many residence were killed

1990-1992
Peace time
Barangay Office was constructed
There was a credit program initiated by the DSWD in which P1,000 allotted per family

1993-1994
A wide-ranging of diarrhea especially on the children due to unsafe drinking water
Reached to 100 families livied in the Barangay
Deep well project was constructed
1995
Day Care was established at the center proper of the Barangay
There were 110 families in which 550 individuals lived in the Barangay
The barangay launched a feeding program to children and lactating mothers
1996
The local government hand over a 1 hectare of land for the barangay
Received funds from CDF for the Barangay market and Barangay public toilet project
Quarry site was opened

1997
Spring development project was established
1998
Received funds from ZHPEP for water development project
Barangay road was constructed
Constructed 2 additional classrooms and solar dryer
1999
Barangay stage was constructed
Barangay farm was established for durian and banana

2000
The Barangay was purchased 1 hectare of land
Non-formal education courses to the people in the Barangay such as goat raising, dispersal, dressmaking and practical electricity
There were projects such as spring development, piggery and poultry

2001-2003

Barangay fishpond project was established
Spring development project – level 2 funded by NGO
Continuation of electrification project in Purok 2 & 3
On-going construction of Barangay Hall
There were 130 families

Geographical Location
Barangay Salvador is an upland area. Its distance from the town proper and national highway is 4 kilometers respectively and it takes ten (10) minutes to travel through motorcycle or "habal-habal" in local dialect. It is accessible to all types of vehicle and the type is road is gravel and in fair condition. Barangay Salvador is bounded on the North by Barangay Bonifacio, South by Barangay Don Bernardo Neri, East by Barangay San Isidro and on the West by Barangay Mauswagon.
Political Subdivision
Barangay Salvador has 3 puroks: Purok 1, Purok 2 and Purok 3. It became a Barangay in the year 1996 under the leadership of the first Tenyente del Baryo Ruperto Nagasan.
Land Area
Barangay Salvador has a total land area of 595.61 hectares. It has its land classification and uses. Source: CLUP
Topography and Land Classification
Its terrain is gently sloping to undulating with a slope of 3%-8% and an elevation of 100-300 masl. The type of soil is Guimbaloan Clay Loam.
About 99% percent of the areas are vast agricultural land and some portions of it are public and residential land. The main crop planted is coconuts where mostly of the residents are farmer.
Soil Types
The soil type of all part of the barangay is classified as Guimbaloan Clay Loam. It is characterized as generally deep to very deep, well drained, clayey texture of various surface colors as brown to dark brown, dark yellowish brown, and dark brown and yellowish brown. The color changes depending on soil texture and extent of erosion. Coconut, enter planted with bananas and some other fruit trees are the most suitable to this type of soil.
Climate and Rainfall
The Barangay together with the Municipality is under the Type IV climatic classification with no pronounced dry or wet season. This climate is characterized as moist, with an average rainfall of 2,278.7mm throughout the year. The wettest period spreads over an eight-month period from May to December, however, the rainiest months are in the last quarter of the year from October to December when 40% of the rainfall is recorded. While sparse rain showers are experienced during the remaining months, the driest months are February, March and April.
General Land Uses
Barangay Salvador has vast agricultural land area of 588.61 hectares. Some portion of the area is devoted to corn production. About 40 percent are planted with corn, rice and fruit trees. The 7 hectares of land is residential land that equivalent to 1%.
The average agricultural land holding per household is 4.53 hectares.. Most of the farmers are owners while others are tenants and some are leaseholders and mortgage.
| | | |
| --- | --- | --- |
| General Land Uses | Area In Hectares | Percentage |
| Agricultural Lands | 588.61 | 99% |
| Residential Land | 7.00 | 1% |
| Total | 595.61 | 100% |