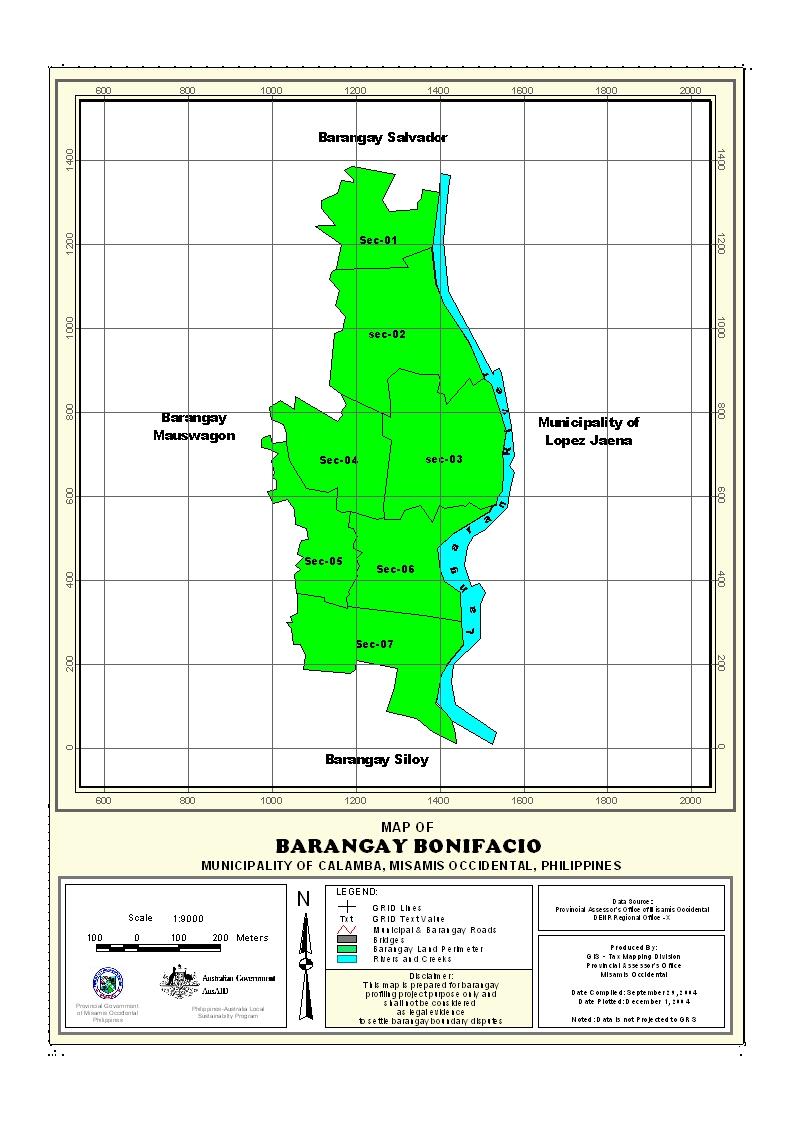 Brief history of the Barangay
Barangay Bonifacio is located at the southern part of the Municipality of Calamba, Misamis Occidental.
The first inhabitants of the area were Subanens and Concentrated at "Sugmaran" now sitio Sugnoran at Balonoan fertile valley with an area of more or less 300 hectares along the Langaran River.
Kaingin System practice of Subanen was still a general practice moving from place to place after harvest but nevertheless. A few natives stick to their lands in the person of:
Domingo Ingop
Lorenzo Catane
Tomas Quinlob
Baldomero Besandre
Marticiano Catane
Marticiano Catane was elected as chieftain with the influx of settlers from other provinces (Cebu, Bohol, Siquijor etc.) and other Municipalities of the Province of Misamis Occidental. Isidro Rillas of Plaridel and past Governor got the biggest are of Balonoan Valley, many settlers tried and some met failures. And the following met success:
Esteban Olandag
Teofilo Madriñan
Severo Aying
German Mag-usara
Ruperto Sabesaje
Through the leadership of Mr. Ruperto Sabesaje from Sogod, Leyte married to Rosario Rillas Lumasag, spearheaded an organization that lead to making a barrio. With the following officers:
| | |
| --- | --- |
| Mr. Ruperto Sabesaje | - Leader |
| Mr. Meliton Bonocan | - Assistant Leader |
| Mr. Eulogio Aguilo | - Secretary |
| Mr. Florencio | - Treasurer |
By virtue of the resolution pass and duly approved by the council of Bonifacio became a barrio.
In 1937, through their unity, build a market and a school building. Don Bernardo A. Neri, President Council of Plaridel Misamis Occidental. Through his intercession and on motion of Vice President Casimero Quicoy, the Bonifacio come into existence.
Geographical Location
Barangay Bonifacio is an upland barangays located at the southern part of the Municipality of Calamba, Province of Misamis Occidental. It is bounded on the north by Barangay Salvador, on the south by Barangay Siloy, on the east by Barangay San Isidro, and on the west by Barangay Mauswagon. It is approximately 7.5 kilometers away from Calamba to barangay center.

Political Subdivision
There are 132 households residing in the barangay which comprises (4) four puroks. The puroks have an average distance of 1.05 km. from the barangay center, and also having an average of 33 households settling per purok. Purok I appear to be density populated while purok III has the lowest number of residential households.
Land Area
Barangay Bonifacio has a total land area of 693.8840 hectares.
Topography and Land Classification
Barangay Bonifacio is a moderately sloping to slightly rolling slope. Estimated elevation of which in between the range from 100-200 meter above sea level and has a moderately sloping to slightly rolling slope of about 8-18%. Most of its area is coco land with some open areas planted corn, root crops and fruit trees.
Soil Types
The barangay has a soil type of guimbaloan clay loam. Mostly are grown with coconuts, corn, root crops and fruit trees.
Climate and Rainfall
Barangay Bonifacio is to the fourth type with no pronounced dry or wet season. The wettest period spreads over an eight-month period from May to December, however, the rainiest months are in the last quarter of the year from October to December when about 40% of the rainfall is recorded. The driest months are February, March and April.
General Land Uses
About 99.9% of the total land is used for agriculture. Only .06% is build up areas such as residential lots and barangay government sites.
General Land Uses

Area In Hectares

Percentage

Agricultural Lands
430.5428

99.9%
Residential Land

.2980

.06%

Total

430.8408
Percentage= area in ha./total barangay area