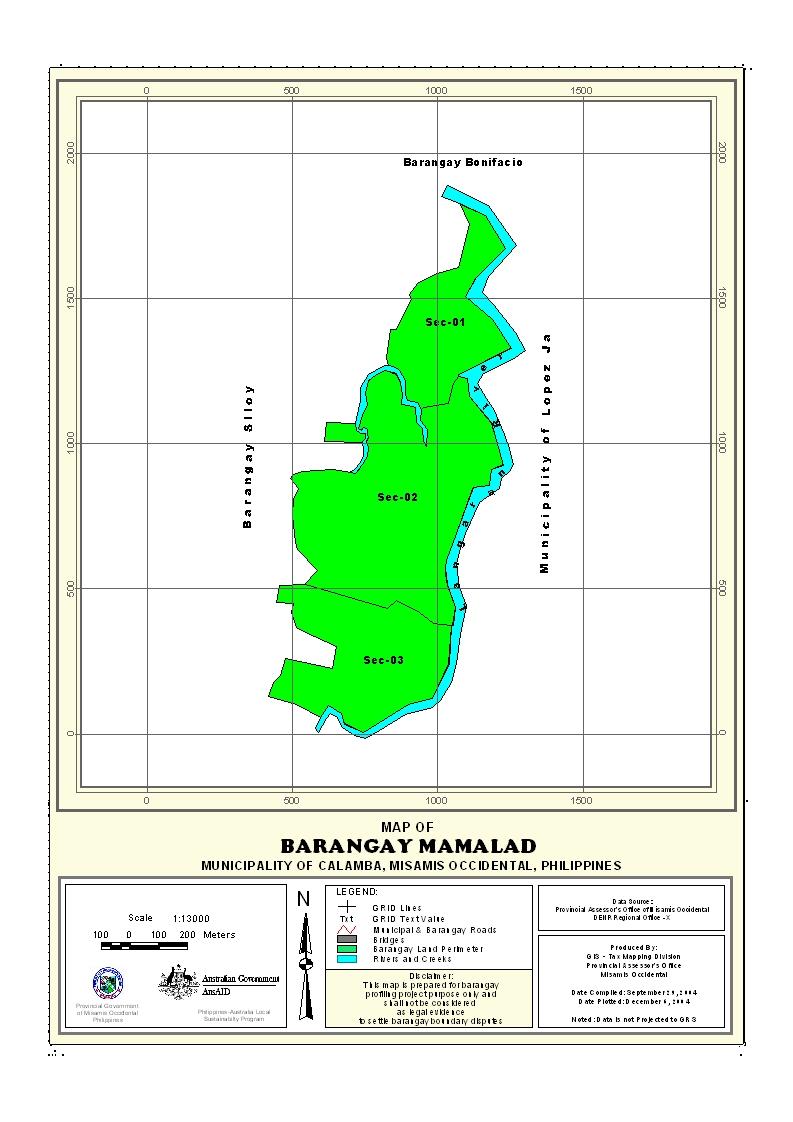 Brief history of the Barangay
In the year 1970, this barangay was a sitio of barangay Siloy wherein majority of the household residing are Subanen.
This barangay was created in the year 1972. Existing creek with water continuously flows even during El-Niño period. The creek did not come to dry or in visayan term
dili Mamala
. Because of this characteristic the word
Mamalad
was derived from there on, a term given by the Subanen tribes under Datu Felipe Ending as the barangay Captain.
In 1973, barangay hall was constructed using indigenous materials, with cogon grass (similar to Vetiber grass) as roofing. Simultaneously come the construction of the Catholic Church and primary grade school building for grade I, Grade II and Grade III.
In 1974, Barangay Captain Datu Felipe Ending resigned as barangay captain and turned it over to Mr. Honorio Ending. It has a poor road condition and is passable only by cart which they called singgarilya or balsahan pulled by a carabao to transport farm products to the town proper.
In 1975 to 1979, the replacement of barangay hall's roofing to corrugated G.I. roofing follows the development of sport facilities (basketball court) and the implementation of the BSPO program from the Department of Health.
The increasing number of constituents with Roman Catholic religion having the biggest number, decided that November 24 as their barangay fiesta in honor of Patron San Vicente. Residents discover the abundantly natural grown rattan as good raw materials for handy crafts livelihood activities such as basket, abaca rope. They develop barangay brigade training in preparation of peace and order situation. The Department of Agriculture introduces the Samahang Nayon Program for farmer and the infrastructure development of Level l water supply.
In 1980 – 1989, the New People's Army (NPA) entered the barangay and that resulted to temporary transfer of the residents to the town proper.
Infrastructure development specifically for road has been constructed, accessible by four wheeled vehicles.
The Department of Agriculture introduce barangay advocacy on farm technology under the leadership of Barangay Captain Liberato M. Nagasan.
In 1990 – 1993, peace and order situation had been controlled by the government military personnel. There were simultaneous infrastructure developments and efforts of the government officials to facilitate the funding assistance for the concreting of roads, construction, daycare center and barangay office, rice milling machine as their livelihood, and the organization of farmers cooperative, womens and Rural Improvement Club (RIC).
In 1994 – 1997, there was a construction of permanent health center, barangay office and expansion of electrification under the leadership of barangay captain Luciano Dumanhug.
In 1995 – 1999, infrastructure development for the construction of Multi-purpose drying pavement and improvement/rehabilitation of daycare center, were undertaken.
In 2000, development of watershed area by the concern NGO (Care Philippines) in relation to Mt. Malindang bio-diversity program was also started.
In 2002, was the start of the construction/Improvement of Level II water system.
In 2003, Level III water system to 31 HH, equivalent to 35.60% of the total household in this barangay.
In 2004, Phase II-Philippines Australia Local Sustainability program finally entered the barangay.
Geographical Location
Barangay Mamalad is situated in the southern part of the municipality of Calamba, province of Misamis Occidental. It is bounded on the north by barangay San Isidro, south by barangay Singalat, and east by part of Lopez Jaena and west by barangay Siloy.
Political Subdivision
There are 87 households residing in the barangay which comprise three (3) puroks. The puroks have an average distance of 0.50 km. from the barangay center, and also having an average of 29 households settling per purok. Purok 3 appears to be densely populated while purok 2 has the lowest number of residential households. The barangay has a density of 17 households per sq. km. area.
Land Area
Mamalad has a total land area of 4.8815 square kilometer or 488.15 hectares. An approximately 6.125 has. had been used for public land and 4.34% of the total land area of the municipality. 483.80 hectares are occupied as agricultural areas and 4.35 hectares are occupied as residential/built-up areas. Out of the 19 barangay, Mamalad is the 7th of those that have the smallest land area.
Topography and Land Classification
Mamalad is about 130 to 160 meters above sea level and its terrain are ranging from 2% to 18% slope on the rice field areas and 30 to 45 degrees on the west side of this barangay. Most of the area is cocoland with some open areas planted with fruit trees. Only 4.35 hectares residential land area.
Soil Types
This barangay is classified as a Guimbaloan clay loam soil type.
Climate and Rainfall
Rainy season usually falls in the month of June and December and the dry season during the month of March. Barangay Mamalad is a typhoon free barangay. The average temperature ranges from 28 to 32 degree centigrade. Barangay Mamalad together with the Municipality may slightly vary its climatic classification, wherein there is no distinct wet and dry season. The rainiest month is December while the driest month is March is evenly distributed throughout the year.
General Land Uses


| | | |
| --- | --- | --- |
| General Land Uses | Area In Hectares | Percentage |
| Agricultural Lands | 483.80 | 99.10% |
| Residents Land/Built-Up Areas | 4.35 | 0.9% |
| Total | 488.15 | 100% |
Percentage = area in ha./total barangay area