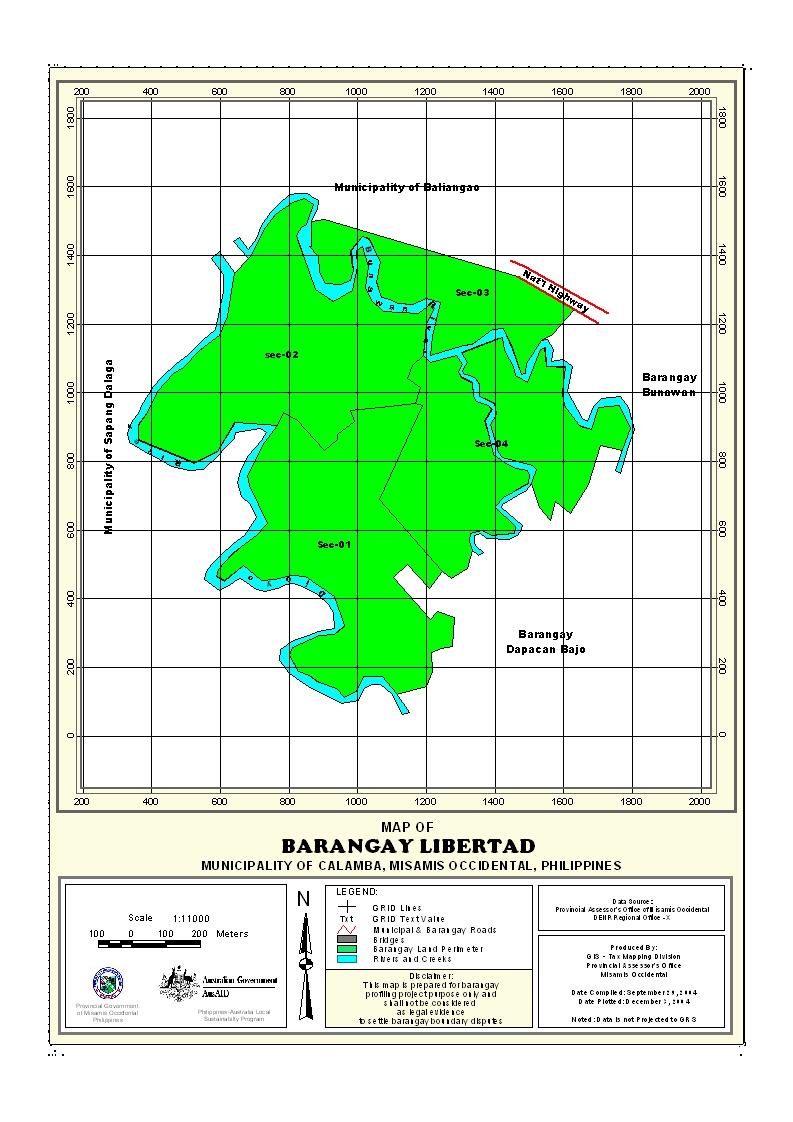 Brief history of the Barangay
Libertad is one of the barangays in the municipality of Calamba, Misamis Occidental. Known to have very friendly inhabitants, it is one of the peaceful barangay in town.
Barangay Libertad was originally named "BOSQUE" which means forest. It was once part of Barangay Dapacan Bajo, formerly part of the Municipality of Plaridel. Bosque was renamed LIbertad from the word "liberty". It was created before the creation of the Municipality of Calamba in the mid 1940's
Geographical Location
Barangay Libertad is located at the western part, one of the hinterland barangays of the municipality. It is bounded on the north by Barangay Dapacan Bajo,on the south by Barangay Del Pilar, Baliangao, MIsamis Occidental, on the east by Barangay Bunawan and on the west by Barangay Guinabot, Sapang Dalaga, Misamis Occidental. It is approximately five (5) kilometers away from town proper.
Political Subdivision
As a basic political unit, the grassroots of the governance, the barangay serves as the primary planning and implementing arm of the government programs, policies, projects and activities within its juridical territories.
There are 85 households residing in the barangay which comprise six (6) puroks. Each purok has an average of 14 households. Purok 3 appears to be densely populated while Purok 1 has the lowest number of residential households.
Land Area
Barangay Libertad has a total land area of 5.0484 square kilometer. In terms of land area, Libertad is one of the smaller barangays in town. Out of the19 barangays of Calamba, Libertad is the 8th of those with the smallest land area.
Topography and Land Classification
Barangay Libertad is gently sloping to undulating slope of about 3-18%. Most of its area is coconut land with some open areas planted to corn, crops and vegetables.
Soil Types
Municipality of Calamba has only two types of soil, the Castilla clay loam and Guimbaloan clay loam. Barangay LIbertad has a soil type of Guimbaloan clay loam.
Climate and Rainfall
Libertad's climate belongs to the fourth type with no pronounced dry or wet season. This type of climate is characterized as moist. It has an average rainfall of 2,278.7 mm throughout the year. The wettest period spreads over an eight month period from May to December, however the rain rest months are in the last quarter of the year from October to December where about 40% of the rainfall is recorded. While sparse rain showers are experienced during the remaining months. The driest months are February, March and April.
General Land Uses
Basically agricultural, most of the barangay constituents depend solely in farming and on the coconut products as the main source of income.
About 46.80% of the total land area is used for agriculture. Only a small portion is built up areas such as residential lots and barangay government sites. The other part utilized for various uses such as roads and other land uses.
| | | |
| --- | --- | --- |
| General Land Uses | Area In Hectares | Percentage |
| Agricultural Lands | 236.2332 | 46.80% |
| Grasslands/Shrub Lands | | |
| Forestlands | | |
| Wetlands | | |
| Miscellaneous Land Uses | 268.6068 | 53.20% |
| Total | 504.84 | 100% |