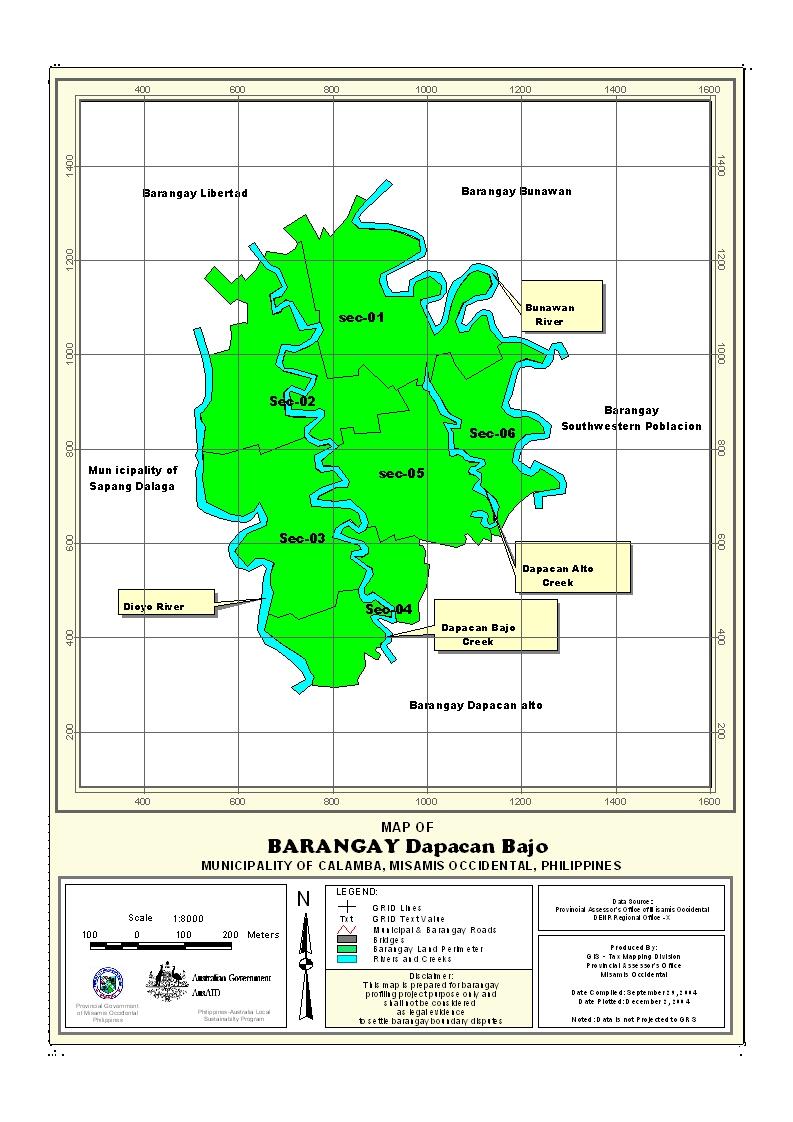 Brief history of the Barangay
We are about to begin a voyage of discovery to a place to a place of wonder and surprise. This is a place that is as old as recorded history, and as young as tomorrow. This place has wonderful things to see, such as cogon cottages of ageless splendor.
As long ago the three able founders namely; Genero Jangad, Felipe Bolotaulo and Calos Caspe met to form a barangay. They stressed that geographically and historically there was only one Dapacan. But necessity demand, it was divided into two barangays; Bajo and Alto. This is the centainly tue.
On August 10, 1898 a consultative meeting of the three founders took place. They agreed to name the Virgin Mountain or forest "DAPACAN". This word was derived from Boholano term DAPA-AN (meaning to bend) due to the fertility of the soil. Rice and Corn were growing taller; farmers bend the stalk of rice and corn during harvest time to pick the gains.
Early on August 16, 1898 all mountain settlers wee called for Assembly Meeting. This event officially underlines the provisions of peaceful Cabeza de Barangay Election. Elected officials then wee composed of triba men.
Dapacan Bajo then walks up a new life with its diversified and unique experience in the fight of economic and peace.
So believers built a cogon hut as KAPILIA honoring SR. SAN ROQUE the barangay patron Saint that is celebrated every 16th of August.
Geographical Location
Barangay Dapacan Bajo is upland barangay situated at the western part of the municipality of Calamba, Province of Misamis Occidental. It bounded on the north by Barangay Libetad, on the south by Barangay Dapacan Alto, on the west by Libertad and part the Municipality of Sapang Dalaga.
Political Subdivision
There are 133 households residing in the barangay which comprises six (6) puroks. The puroks have an average distance of 1 kilometer from the barangay center and also having an average of 22 households settling per purok. Purok 1 appears to be density populated while purok 6 has the lowest number of residential households.
Land Area
Barangay Dapacan Bajo has a total land area of 705.43 with 697.78 hectares agricultural lands and 7.65 hectares are residential.
Topography and Land Classification
Barangay Dapacan Bajo has is moderately sloping to slightly rolling slope. Estimated elevation of which in the between the range from 100-170 meter above sea level and has a moderately sloping to slightly rolling slope about 8-18%. Most of its area is coco land with some open areas planted corn, root crops, vegetables and fruit trees.
Soil Types
The barangay has a soil type of Guimbaloan Clay Loam. Mostly are grown with coconuts, corns, root crops and fruit trees.
Climate and Rainfall
Barangay Dapacan Bajo is to the fourth type with no pronounced dry or wet seasons. The wettest period spreads over an eight-month period from May to December, however, the rainiest months are in the last quarter of the year from October to December when about 40% of the rainfall is recorded. The driest months are February, March and April.
General Land Uses
| | | |
| --- | --- | --- |
| General Land Uses | Area In Hectares | Percentage |
| Agricultural Lands | 697.78 | 99% |
| Residential | 7.65 | 1% |
| Total | 705.43 | 100% |
About 99% of the total land area is used for agricultural while 0.10% used for miscellaneous.