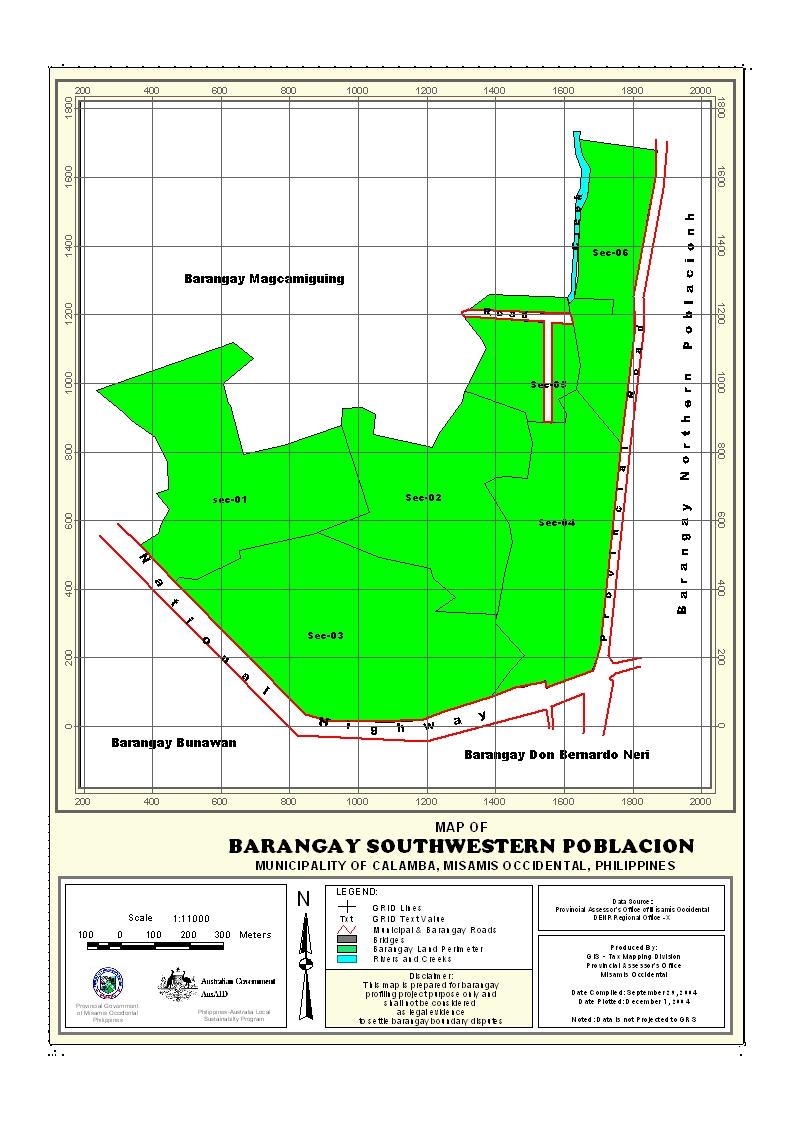 Brief history of the Barangay
It was n the 14th day of February 1948, that the old name of Langaran, a barrio of Plaridel, Misamis Occidental, have graduated into a municipality, non known as the municipality, now known as the municipality of Calamba. It as then that Calamba Poblacion Centro was divided into two: namely Eastern Poblacion, which extended from the boundary of barrio Magcamiguing. Later on two barrios in the Poblacion were again divided into two separate barrios each, which resulted into barangay South Western Poblacion.
Geographical Location
Barangay South Western Poblacion is geographically located along the Eastern part of Northern Poblacion,and the north bounded by Magcamiguing , and the West by Bunawan and the south by barangay D'ban.
Political Subdivision
There are 433 households residing in the barangay, which comprises of six (3) purok. The purok have an average distance of 50 km. from the barangay center, and also having an average of 150 households settling per purok. Purok 3 appears to be density populated while purok 1 has the lowest number of residential households. The barangay has a density of 120 households per sq. km. area.
Land Area
South Western Poblacion has a total land area of 141.65 square kilometer .It is approximately 16.65 has had been used for Residential land area, 2.43 of the total land area is commercial and 4.5 for institutional land.

Topography and Land Classification
South Western Poblacion is low elevation and almost its area is flat lowland.. Estimated elevation of which in between the range is from 70-100 meter above sea level and has a dominant slope about 5-11 percent.
Soil Types
The Barangay has soil type of Gimbaloan clay loam. Interior portion of the barangay with devoted to fruit trees.

Climate and Rainfall
The Barangay together with the Municipality is the same climatic classification and is no distinct of wet and dry season. The rainiest month is December while the direst month is March evenly distributed throughout the year.
General Land Uses


| | | |
| --- | --- | --- |
| General Land Uses | Area In Hectares | Percentage |
| Agricultural Lands | 141.65 | 84.20% |
| Residential Land | 16.65 | 9.8% |
| Institutional Land | 4.5 | 2.6% |
| Open Space | 3.0 | 1.5% |
| Commercial Land | 2.43 | 1.4% |
| Total | 168.65 | 100% |